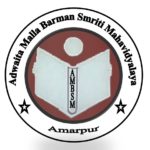 Government of Tripura
Adwaita Malla Barman Smriti Mahavidyalaya
(Affiliated to Tripura University)
Kawamaraghat, Amarpur, Gomati, Tripura, Pin-799101

Welcome to Adwaita Malla Barman

Smriti Mahavidyalaya,

Amarpur
Internal Quality Assurance Cell:IQAC
Brief about IQAC:

IQAC of the college was formed on 03.05.2018 for quality enhancement and in pursuance of Accessment & accredation by NAAC team. The main goal of IQAC is to maintain the internal quality of the college and to improve overall performance towards achieving its excellency.



IQAC Committe Members:

Sl.No

.

Members of the Committee

Composition

1

Dr. Pradeep Kumar Deepak


Chairperson

2

Dr. Babudhan Tripura


Co-ordinator

3

Mr. Shantaraj Debbarma

Teachers' Representative

Mr. Subir Basak


Mr. Manoranjan Pal

4

Mr. Patal Kr. Murasing

Academic Officials

5

Mr. Tarun Chakraborty

One Member from management

6

Mr. Ranjit Das

Nominee from Alumni

Mr. Prasanta Podder

Nominee from local society

Mr. Santa Podder


Nominee from students

7

Mr. Ajit Saha

Industrialist
IQAC Meeting Notification & Minutes
Content on this website is developed, published and managed by AMBS Mahavidyalaya, Amarpur, Gomoti, Tripura India.
Copyright © AMBS Mahavidyalaya. All Rights Reserved.