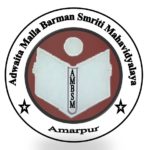 Government of Tripura
Adwaita Malla Barman Smriti Mahavidyalaya
(Affiliated to Tripura University)
Kawamaraghat, Amarpur, Gomati, Tripura, Pin-799101

Welcome to Adwaita Malla Barman

Smriti Mahavidyalaya,

Amarpur
CODE OF CONDUCT FOR STUDENTS'
DO's
-Follow the rules of the college.
-Attend the classes regularly. 
-Come to college with proper uniform and Identity card.
-Keep the college clean.
DON'Ts
-Use Mobile phones inside the class.
-Use tobacco & smoking inside college campus.
-Involve in any kind of ragging and harassment.
-Violate the rules of the college.
-Destroy the college property.
-Use any plastic items inside the campus.
Students' Union Council
Currently No Student Union Council Exist.
Content on this website is developed, published and managed by AMBS Mahavidyalaya, Amarpur, Gomoti,Tripura India.
Copyright © AMBS Mahavidyalaya. All Rights Reserved.