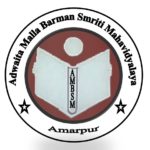 Government of Tripura
Adwaita Malla Barman Smriti Mahavidyalaya
(Affiliated to Tripura University)
Kawamaraghat, Amarpur, Gomati, Tripura, Pin-799101

Welcome to Adwaita Malla Barman

Smriti Mahavidyalaya,

Amarpur
Department of

Information Technology
The Department of IT offers one Foundation subject i.e. Computer Skill for 4th Semester students  and one soft study course subject i.e. Society and Technology for students in 6th semester as an elective subject.
 HOD-in-Charge: Smt. Shubha Rani Jamatia  
Faculty Profile:

Name &  Designation

Qualification

Specialization

Date of Joining Institution

Total years of Teaching Experience

Profile

 Smt.Shubha Rani Jamatia, Assistant Professor

 

M.Tech (computer Science & Engineering)

 

Programming, Computer Networking

 

14-07-2016

 9 yeaars and 5 months

View Profile
 

 

 
 

 

 
 
 
 
 
 
 
 

 

 
 
 
 
Seminars/Workshop/Quiz Organized:

Content on this website is developed, published and managed by AMBS Mahavidyalaya, Amarpur, Gomoti,Tripura India.
Copyright © AMBS Mahavidyalaya. All Rights Reserved.