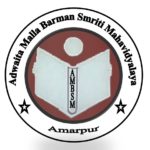 Government of Tripura
Adwaita Malla Barman Smriti Mahavidyalaya
(Affiliated to Tripura University)
Kawamaraghat, Amarpur, Gomati, Tripura, Pin-799101

Welcome to Adwaita Malla Barman

Smriti Mahavidyalaya,

Amarpur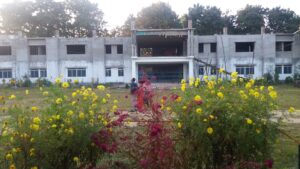 History
Adwaita Malla Barman Smriti Mahavidyalaya, Amarpur, formerly known as Government Degree College, Amarpur was established on 13th September 1988 to meet the emerging need of students and local people. The objective of establishment of this college is to spread and make the higher education accessible to all. Intially, the college started its function in the school building of Govt. Higher secondary school building for girls at Amarpur in the morning shift. Later on, the location of this college was shifted to present site of Kawamaraghat on 12th December 2002. This college is affiliated to Tripura University (A Central University) and has received recognition from the University Grant Commission (UGC) under 2(f) and 12(B) on 17th November 2009.

This college has been renamed as Adwaita Malla Barman Smriti Mahavidyalaya in the year 2013.

At present, the college has been offering three year Degree Program in Arts stream both in Major as well as general. B.A Major in subjects Bengali, English, Education, History, Philosophy, Political Science, Sanskrit and B.A. General in subject in above mentioned subjects. A new subject, Kokborok, a language of the Borok/Tripuri community has been introduced in the year 2012 as one of the language subject for B.A. General course. B.Sc. (General/Pass) Course in Physical/Pure Science has been introduced in the year 2017 including subjects Physics, Chemistry and Mathematics with intake capacity of 10 students.

The UGC sponsored program such as Remedial Coaching Cell, Career Counseling Cell etc. are running for the betterment of the students. Moreover the college is connected with high speed (VPN) connection under NMEICT, biometric attendance for staff and CCTV are installed within the college campus for smooth functioning of the college.
Aim of the College: To deliver education to the students and to use modern technology in delivering lectures in the classroom.

Our Vision: To establish AMBS Mahavidyalaya, Amarpur, a highest institution of the quality education in the state.
Our Mission: The mission of the college is to introduce both Science and commerce stream along with other subject of arts including the existing subjects and open profession-oriented courses like BCA, DCA, Fashion Technology and traditional tribal handloom technology etc. in the AMBS Mahavidyalaya, Amarpur with modern technology so that after getting the degree students do not face any difficulty to avail service/business.
Content on this website is developed, published and managed by AMBS Mahavidyalaya, Amarpur, Gomoti,Tripura India.
Copyright © AMBS Mahavidyalaya. All Rights Reserved.