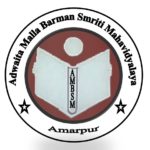 Government of Tripura
Adwaita Malla Barman Smriti Mahavidyalaya
(Affiliated to Tripura University)
Kawamaraghat, Amarpur, Gomati, Tripura, Pin-799101

Welcome to Adwaita Malla Barman

Smriti Mahavidyalaya,

Amarpur
AISHE (All India Survey on Higher Education)

Brief about AISHE: To portray the status of higher education in the country, Ministry of Human Resource Development has endeavoured to conduct an annual web-based All India Survey on Higher Education (AISHE) since 2010-11. The survey covers all the Institutions in the country engaged in imparting of higher education. Data is being collected on several parameters such as teachers, student enrolment, programmes, examination results, education finance, infrastructure. Indicators of educational development such as Institution Density, Gross Enrolment Ratio, Pupil-teacher ratio, Gender Parity Index, Per Student Expenditure will also be calculated from the data collected through AISHE. These are useful in making informed policy decisions and research for development of education sector. Adwaita Malla Barman Smriti Mahavidyalaya, Amarpur uploads data of AISHE every year. AISHE Code for Adwaita Malla Barman Smriti Mahavidyalaya, Amarpur is C-9580.
Nodal Officer:

Dr. Bhabudhan Tripura, Assistant Professor, Department of Political Science

C-9580-2020-21

to view data.
Content on this website is developed, published and managed by AMBS Mahavidyalaya, Amarpur, Gomoti,Tripura India.
Copyright © AMBS Mahavidyalaya. All Rights Reserved.