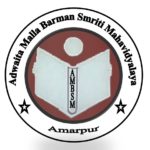 Government of Tripura
Adwaita Malla Barman Smriti Mahavidyalaya
(Affiliated to Tripura University)
Kawamaraghat, Amarpur, Gomati, Tripura, Pin-799101

Welcome to Adwaita Malla Barman

Smriti Mahavidyalaya,

Amarpur
Library:
                    The backbone of any institute is called the Library. The Library of A.M.B.S. Mahavidyalaya has a collection of 13,000 (approx.) books which includes both text and reference for all the departments of this institution . The library is mainly for the students and academic staffs of this institution.
For any further query, may contact to:
Assistant Librarian: Mr. Sneha Kumar Debbarma
Library Staff:
Sri Dhananjoy Jamatia (Group-D)
Facilities available:
1. Reading Room facility
2. Internet Facility
3. Xerox Facility
Content on this website is developed, published and managed by AMBS Mahavidyalaya, Amarpur, Gomoti,Tripura India.
Copyright © AMBS Mahavidyalaya. All Rights Reserved.