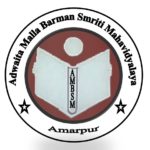 Government of Tripura
Adwaita Malla Barman Smriti Mahavidyalaya
(Affiliated to Tripura University)
Kawamaraghat, Amarpur, Gomati, Tripura, Pin-799101

Welcome to Adwaita Malla Barman

Smriti Mahavidyalaya,

Amarpur
Alumni:
Alumni was formed on 17/12/2018 with the following members:
Sri Ranjit Das, President

Sri Tarun Chakraborty, Vice-President

Sri Prasenjit Chakraborty, Convenor

Miss Manju Sukla Das, Member

Sri Pradip Das,                     ,,

Sri Ajit saha,                         ,,

Sri Soumnath Ganguly,      ,,

Sri Bijoy Malakar,                ,,

smt. Soma Saha Podder,   ,,

Sri shibhankar Das,             ,,

Sri Raj Kr. Das Choudhury,   ,,

Sri Dibakar Das,                       ,,
Content on this website is developed, published and managed by AMBS Mahavidyalaya, Amarpur, Gomoti,Tripura India.
Copyright © AMBS Mahavidyalaya. All Rights Reserved.