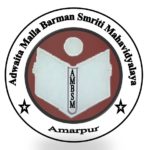 Government of Tripura
Adwaita Malla Barman Smriti Mahavidyalaya
(Affiliated to Tripura University)
Kawamaraghat, Amarpur, Gomati, Tripura, Pin-799101

Welcome to Adwaita Malla Barman

Smriti Mahavidyalaya,

Amarpur
Department of

Physical Science

Three year degree programme in B.Sc. (General) in Physical/Pure science has been introduced in the year 2017 with elective subjects physics, chemistry and mathematics with seat capacity of 10. The Department has no faculties and  unfortunately till now no students got admitted in this course.
Faculty Profile: ………..Information not available


Name &  Designation

Qualification

Specialization

Date of Joining Institution

Total years of Teaching Experience

Profile

 
 
 
 
 
 
 

 

 
 

 

 
 
 
 
 
 
 
 

 

 
 
 
 
Content on this website is developed, published and managed by AMBS Mahavidyalaya, Amarpur, Gomoti,Tripura India.
Copyright © AMBS Mahavidyalaya. All Rights Reserved.