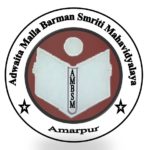 Government of Tripura
Adwaita Malla Barman Smriti Mahavidyalaya
(Affiliated to Tripura University)
Kawamaraghat, Amarpur, Gomati, Tripura, Pin-799101

Welcome to Adwaita Malla Barman

Smriti Mahavidyalaya,

Amarpur
Distance Education Centre:DEC
The Centre for Distance Education of A.M.B.S.Mahavidyalaya was started in the year 2010. Initially the Center provide 3 year degree course, gradualy which is changed to 3 year degree programme with six semester. At present, there are more than ….. students studying under this center.
The main aims and objectives of distance education are:
* To provide opportunities who missed conventional mode of learning.
* To provide opportunities who are in-service.
* To provide opportunities to women including housewife.
Name of Course Co-ordinator: Sri Patal Kumar Murasing
(27/08/2014 to till date)
Course Offered: B.A(General)
Duration of Programme: Six Semester
Subject Offered: Bengali, English, History, Education, Political Science, Philosophy.
ELIGIBILITY CRITERIA FOR ADMISSION:
Any student passing H.S.(+2) examination or its equivalent with atleast 4 subjects including English from any recognized Board/ council shall be eligible for admission to the 1st semester of the B.A. general programme of studies.
ACADEMIC SESSION:
Each academic session shall commence from the month of Augast.
FEE STRUCTURE AND MODE OF PAYMENT:
B.A. Semester-I +II Rs. 3500/-
Semester-III+IV Rs. 3500/-
Semester-V+VI Rs. 3000/-
Students who do not have TU Registration shall have to apply for the same along with requisite Registration fee, in addition to the Course fee.
Stdents are required to deposit examination fee while filling in their examination forms as per Tripura Uiversity Rules.
Renewal fee: Rs. 300/- Deferredl fee: Rs. 300/-
The Course fee, examination fee, Renewal fee and deferred fee are required to be paid through PowerJyotiChallan ( ) at any branch of SBI.
Year-Wise Student Strength:
Academic Year

Total Strength of

student

Boys

Girls

2014-15

18

25

2015-16

25

25

2016-17

13

19

2017-18

41

30

2018-19

 
 
Content on this website is developed, published and managed by AMBS Mahavidyalaya, Amarpur, Gomoti,Tripura India.
Copyright © AMBS Mahavidyalaya. All Rights Reserved.